The NES Power Team vs. the Pizza Hut Problem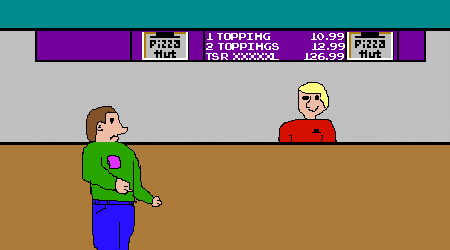 Francis: Hello. I would like to redeem my Book It! prize for a free personal pan pizza.
Cashier: I think you're about 10 years too late there.
Francis: What do you mean? I earned this pizza fair and Square. I read the Cat in the Hat, Where the Wild Things Are, Superfudge and 2 whole Goosebumps books for this!!
Cashier: Ring! Ring! The 80s are calling, they want their promotion back
Francis: So you aren't going to give me my pizza?
Cashier: No.
CRASH!!!!@!!!!@!!!#!@!!!!!
Cashier: Huh? What's that?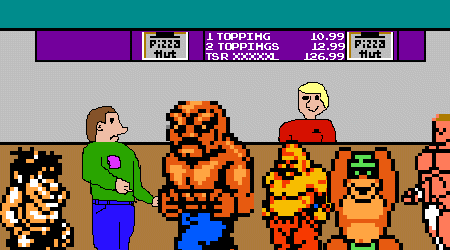 Cashier: Who are you and what do you think you are doing crashing through my store like this?
Abobo: ME AM ABOBO. ME AM WANTS TO HELP LITTLE FRANCIS HERE. WHAT YOU NEED HELP?
Francis: I-i- He wont let me redeem my Book It! for my free personal pan pizza. He's being really mean to me.
Abobo: AM THIS TRUE MISTER PIZZA HUT MAN?
Karnov: Let's go Power Team, we must right this injustice.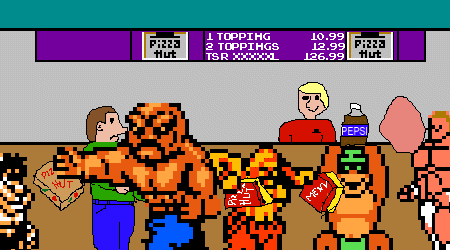 Abobo: ABOBO SMASH !! *smashes a pizza box in half*
Karnov: So angry. *Rips a phone book AND Pizza Hut menu in half together*
Joe: See kids, if you don't do drugs, this power will be yours.
Thrilla: I'm holding up *pant puff* this whole 2 litre bottle of Pepsi! If i did drugs, wouldn't even be able to lift 1 litre! *wheeze*
Narcissist * Bursts hot water bottle with his lungs * *Explodes with such force, the Pepsi bottle hits the cashier on the head and knocks him out *
Joe: Looks like our job here is done. Remember stay off of drugs, and if you need help, call the NES Power Team!
Francis: *runs behind the counter and steals all the pizzas*